Regional Help Line
DRUG PROBLEM? We can help. You are not alone. Call Someone who's been there!
We cannot change the nature of the Addict or Addiction... We can help to change the old lie "Once an addict, always an addict" by striving to make recovery more available.
God help us to remember the difference. © N A Basic Text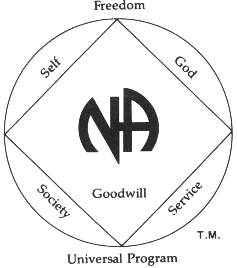 Basic Commitment
     A home group is a meeting where you are comfortable and one you will attend regularly. We call this our home group because it suggests a place where we fit in and belong. Having a home group allows us to have an anchor each week where we can get to know the people and they can really get to know us. We develop a bond with each other as we grow together. For the newcomer, a Home Group is one of the first introductions you'll have to N.A. service. It is your opportunity to have input on matters that affect every member of Narcotics Anonymous to meetings around the world. It is often where we get our first taste of becoming responsible and productive members of society.
    We make a commitment to our home group, and if we are absent for some reason, we will be missed. Our home group is also the place where we celebrate each new year of clean time. We develop true friends, often for the first time in our lives, and learn to respect each other. This can be very important in our recovery. As the members mature, so does the group. We learn to practice the spiritual principles of Narcotics Anonymous in all our affairs. We also learn to divide and share the responsibilities for the growth and well-being of the group. Home group members should try to remain aware of problems or difficulties their group faces and be willing to help. A home group is where you vote as a member of the group conscience on matters affecting NA as a whole as well as matters concerning your home group's well-being. Home groups also participate in carrying the message of recovery at an area level. In the spirit of unity, oneness of purpose, for the good of NA as a whole, it is important that we all do our part. Familiarize yourself with the service positions listed in NA's Guide to Local Services, talk to your sponsor, and if you're interested please ask your home group's GSR for a list of empty service positions. Put your gratitude to work!
Every NA Group in the Kentucky Ohio Recovery Area is strongly encouraged to be represented at ASC meetings through their Group Service Representative (GSR). KORASCNA is our voice to the NA Regional and World Service Organizations. Your group has a voice throughout NA if you choose to use it.